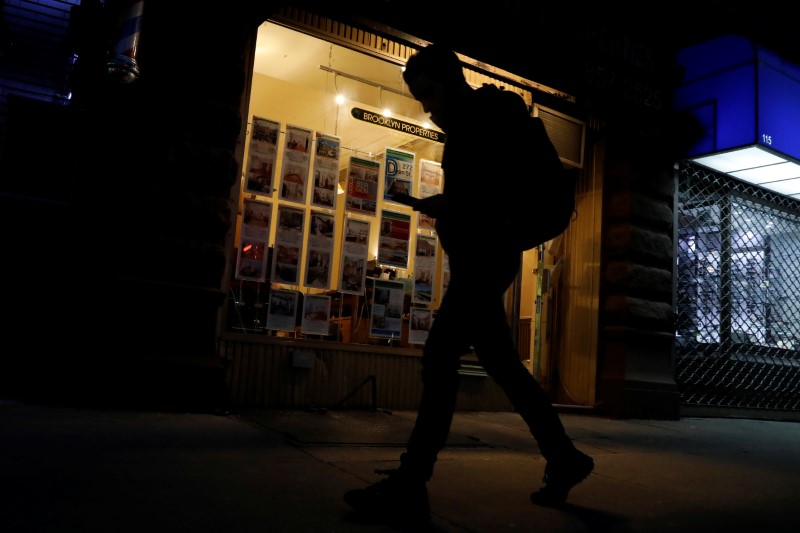 © Reuters. A man walks past a real estate office in Brooklyn, New York
By Herbert Lash
NEW YORK (Reuters) – Prospects for New York City's property market remain strong yet greater caution can be seen as buyers turn more hesitant and sellers seek unrealistic prices, a trade association's second-quarter survey of broker sentiment showed on Tuesday.
The survey by the Real Estate Board of New York (REBNY), which polled about 550 brokers, also showed the outlook was more reserved than in the first quarter for commercial leasing, residential rentals and commissions from renting.
The readings are part of REBNY's six main indexes of current and future broker confidence in residential and commercial real estate, all of which remain in positive territory.
But the quarterly survey conducted in July showed expectations both for the residential rental and commercial leasing markets have slipped below four on an index format of zero to 10. A reading of five or above is positive.
REBNY's indexes have been roughly flat over the past year after hitting highs above eight between 2013 and 2015. Commercial broker expectations ticked up in the second quarter while the residential broker outlook edged down. Both remained positive.
While the city's strong property market has turned cautious, expectations for financing remain high. Yields on 10-year U.S. Treasury notes, a benchmark in commercial real estate, hovered just above 2 percent last week.
The main components of the survey have been positive since 2013, when it began, as New York real estate boomed and the city enjoyed a strong economy with declining unemployment.
Comments from the eight-question survey indicated a market in which buyers were hesitant and sellers were unrealistic on pricing.
Expectations for the commercial leasing market, looking six months ahead, were indexed at 3.78, down 1.01 points since the first quarter, according to REBNY. The future rental market was indexed at 3.31, a decrease of 0.51 points. Both were four-year lows.
sponsoredArticle = 'div-gpt-ad-1466339494851-0';