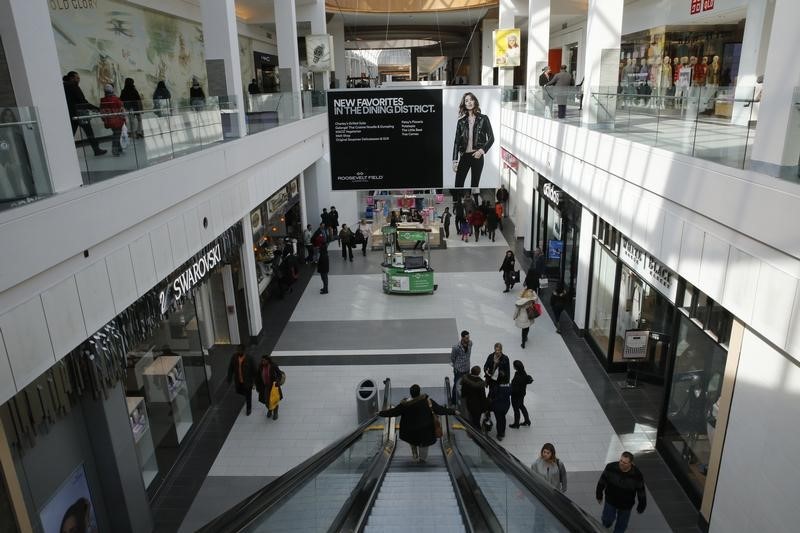 © Reuters. U.S. consumer sentiment falls to 95.3 vs. 95.1 forecast
Investing.com – U.S. consumer sentiment fell less than expected in September, underlining optimism over the American economy, according to a report published on Friday.
The preliminary publication of the data for September from the University of Michigan's Consumer Survey Center showed that consumer sentiment dropped to 95.3 from 96.8 in the previous month.
Analysts had forecast the reading to fall to 95.1.
The current conditions indicator advanced to 113.9 in September, from the previous 110.9.
However, consumer expectations fell to 83.4 in September, from the prior reading of 87.7.
Meanwhile, inflation expectations for the next 12 months held steady at 2.6%.
Chief economist Richard Curtin explained that the drop in the headline sentiment number was due to concerns over the outlook for the national economy after Hurricane Harvey and Irma and noted that the current conditions index hits its highest level since November 2000.
"Given the widespread devastation in Texas and Florida, it is not surprising to find these very negative initial reactions, nor would it be surprising if these negative assessments last longer than following most past hurricanes," Curtin said.
He further noted that renewed gains in incomes as well as rising home and equity values have acted to counterbalance the negative impacts from the hurricanes and concluded that recent events were unlikely to derail confidence.
After the report, EUR/USD was trading at 1.1970 from around 1.1976 ahead of the release of the data, GBP/USD was at 1.3594, compared to 1.3597 previously, while USD/JPY was at 110.83 from 110.74 earlier.
The US dollar index, which tracks the greenback against a basket of six major rivals, was at 91.69 compared to 91.65 before the report.
Meanwhile, U.S. stocks traded mixed after the open. The Dow Jones gained 16 points, or 0.07%, the S&P 500 fell 3 points, or 0.12%, while the tech-heavy Nasdaq Composite edged forward 2 points, or 0.03%.
Elsewhere, in the commodities market, gold futures traded at $1,327.73 a troy ounce, compared to $1,329.40 ahead of the data, while crude oil traded at $49.91, compared to $49.94 prior to the release.
sponsoredArticle = 'div-gpt-ad-1466339494851-0';