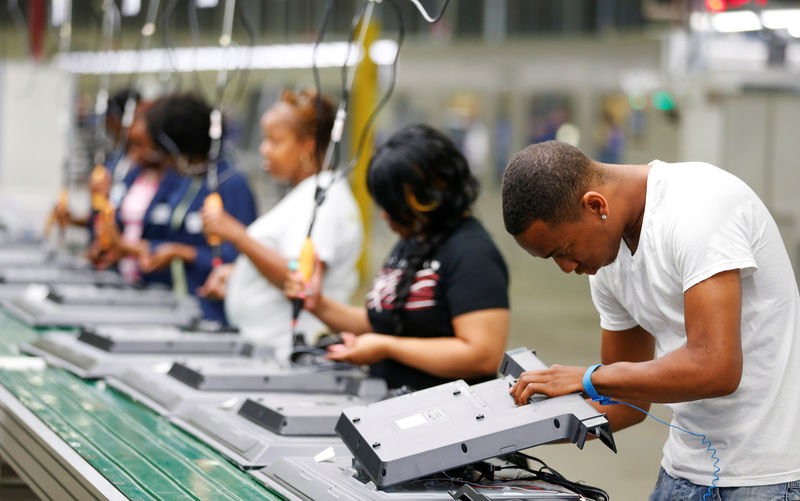 © Reuters. FILE PHOTO: Workers on the assembly line replace the back covers of 32-inch TV sets at Element Electronics in Winnsboro
WASHINGTON (Reuters) – U.S. industrial output fell in August for the first time since January as Hurricane Harvey battered oil, gas and chemical plants along the Gulf Coast and a cool summer sapped utility demand in the east, the Federal Reserve said on Friday.
Overall industrial production fell 0.9 percent over the month after a July increase revised upward to 0.4 percent.
The Fed, using a combination of high-frequency plant output data and economic modeling, attributed about 0.75 percentage point of the decline to storm effects that "temporarily curtailed drilling, servicing, and extraction activity for oil and natural gas."
Economists polled by Reuters had still expected a 0.1 percent increase in industrial output. The U.S. central bank's measure of the industrial sector comprises manufacturing, mining, and electric and gas utilities.
Though Harvey was a major force in the decline, helping push down mining output by 0.8 percent, other sectors contributed.
The output of consumer goods fell 0.7 percent as a rise in production of consumer durables was offset by declines in non-durables and consumer energy products. Production of motor vehicles and auto parts rose 2.2 percent.
Utilization of factory capacity fell 0.8 percentage point to 76.1 percent, compared to a revised upward figure of 76.9 percent in July, nearly 4 percentage points below the long run average.
Economists expected the storm to begin showing up in the output figures, but also in general feel those impacts will be offset by future increases.
sponsoredArticle = 'div-gpt-ad-1466339494851-0';